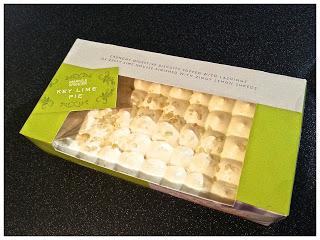 My brother brought this over for us to share the other night...he has a habit of bringing M and S desserts with him when he visits. It has been a while since I have had Key Lime Pie which for those of you that don't know is an American dessert named after Key Limes.
I've had a couple of different versions of this dessert, one was like a Lemon Meringue Pie but of course made with limes instead of lemons, and the other kind was more a lime cheesecake. I have no idea what the official version of the dessert should be but Marks and Spencer's take on it is a crunchy digestive biscuit base topped with a lime mousse.
This Key Lime Pie serves 6 and 1 portion is 335 calories.  My brother said that he paid £3.99.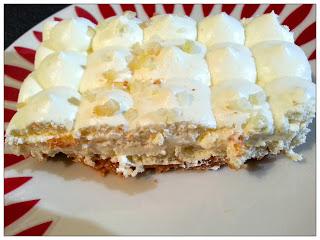 The base was crumbly and buttery tasting, like you would find on a cheesecake.  The mousse was very light and creamy at the same time. The lime flavor was quite subtle but enough to give it a refreshing zesty taste. The dessert was also sprinkled with little shreds of lemon and I wasn't overly keen on the texture as they were chewy compared to the light mousse, but the taste did complimented the lime so I see why they included them.
Verdict
I personally prefer the cheesecake version of Key Lime Pie but this M and S version was a nice light and refreshing dessert nonetheless.