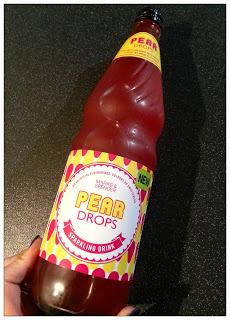 I purchased this M&S Pear Drops Sparkling drink back in the Summer and it's been sat in the fridge ever since.  This often happens to stuff stored in the door section, I always forget to look there for some reason and then make a random discovery a few months later, it's a good job we don't purchase milk often in this household!
Anyway, Pear Drops are probably my favorite boiled sweets so I had high hopes for this beverage.  I also reviewed Marks and Spencer's Raspberry and Lemon Soda a while ago and that was really good so I hoped that this would be of a similar quality.
The drink contains no artificial flavourings, colours or sweeteners and has 115 calories per 250ml serving.  There are 3 servings in this 750ml bottle which has a very bright colourful label which I think looks great.
I loved the gorgeous pink color of the drink and although this is a sparkling drink it is not majorly fizzy.  Looking at the ingredients I was surprised to see that it contains carrot concentrate, it doesn't taste of carrots though, I suspect that this is there for the colouring.  The drink is very, very sweet and has a slight tang to it, just like a pear drop and I was surprised at how similar to the boiled sweets that it tasted.
Verdict
Apart from Pear Cider there really isn't enough pear flavoured things out there which is a shame because I love pears.  Marks and Spencer's Pear Drops Sparkling drink was lovely and made me think of summer on these cold winter nights.  I did notice that they are still stocking this so I may have to go back for seconds.