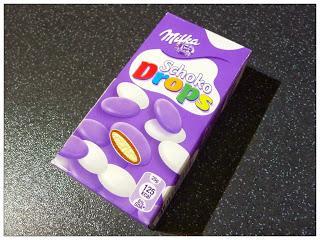 Monstersweets.co.uk recently sent me these Milka Schoko Drops to review. Schoko Drops are Milka Alpine chocolate and milk cream coated in purple and white candy shells. The box weighs 42g and a 25g portion contains 125 calories...I am not sure why they wouldn't just make the box 50g so that it's 2 portions rather than almost 2 but never mind.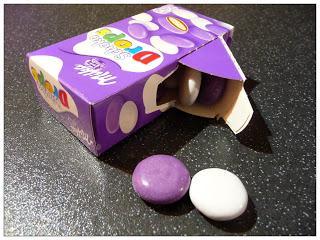 Anyway, I liked the little purple box which has a flap on the side so that you can get the little chocolates out. This meant that it was easy to save some Schoko Drops for later, if they last that long. They are around the same size a Galaxy Minstrels but the purple and white coating makes them look a lot more interesting. The inside looks good too with a thin layer of milk chocolate and the majority of the filling being the milk cream.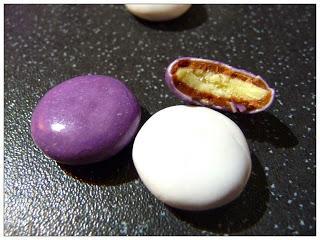 The candy coating give them a bit of a crunch but the inside is nice and smooth and extremely sweet. The milk cream does take away from the chocolate a bit but I enjoyed it nonetheless and I have to admit that the box was soon empty.
VerdictI like this sort of chocolatey snack, a candy shell coating is always a winner and highly addictive and I did enjoy the creamy filling. I think that it would have been nice to have some of the Schoko Drops completely the Alpine milk chocolate rather than just the thin layer but then they wouldn't have looked as pretty! Milka Schoko Drops

are available from Monster Sweets for £1.09.