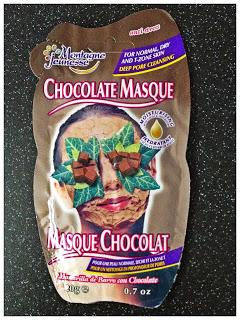 As you have probably noticed I review a lot of chocolate on this site, I've even reviewed Chocolate Shower Cream and today I am sticking with the chocolate theme and reviewing this Chocolate Masque from Montagne Jeunesse.
Montagne Jeunesse has been around for a long time, 25 years in fact.  They are based in Wales and produce a range of beauty products made with natural ingredients and they do not use any raw materials that have been tested on animals.
This Chocolate Masque is suitable for all skins types and is designed to make skin feel soft and deeply cleansed.  My skin has been suffering the last few weeks due to a combination of too much chlorine from swimming, the cold and heating so I felt that it was in need of a little treat.
The masque contains cocoa, Dead Sea salt (for removing dead skin and dirt), Mediterranean Clay (for removing toxins and hydrating tired skin) and Shea Butter which is rich in Vitamin E and helps to restore skin elasticity and seals in moisture.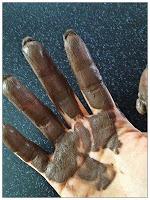 As soon as I open the masque I was hit with a delicious chocolatey smell, I have to admit that it was really tempting to eat this stuff but I managed to remember that it was for my face.  The instructions say to cleanse your face with warm water (no soap etc) and to then apply the masque over your face and neck avoiding the eyes and lips.  You can then relax for 10-15 minutes or until it has dried, then rinse off with warm water and pat dry.
Well there is no way I am showing you a picture of me wearing the Masque so here is a picture of my hand instead.  As you can see it looks like chocolate and is a thick clay-like substance.  It was quite messy to apply and I did manage to make a right mess of the bathroom but this is due to my clumsiness more than anything else.
I followed the application instructions and after about 15 minutes I removed the masque.  As this stuff is so thick and had dried quite hard. it was fairly difficult to remove with just water.  I grabbed a flannel but this meant that once I had removed all of it, my skin was a bit red.  Once the redness has calmed down I could see a bit of an improvement in my skin; it felt smooth and looked more hydrated.  The next day I would say that my skin looked much better than before the masque, the redness from the dry skin had improved and I think that my skin looked generally clearer.
Verdict
I was impressed with the Chocolate Masque from Montagne Jeunesse.  My only complaint was the difficultly in removing it which caused a bit of redness before any improvement showed so don't use it just before heading out.  The condition of my skin had improved the after using this product and the smell was just amazing.  I only paid £1 for this masque from Asda and I think that this is money well spent for a nice treat for my skin.