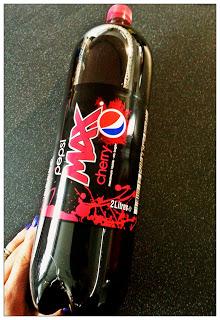 Apparently Pepsi Max Cherry has been around in the UK for a little while now but it seems that for some reason it has been quite difficult to get hold of.  When my husband brought this home the other day it was certainly the first I had seen of it!  He picked up this 2 liter bottle in Sainsbury's for £1.99.
I have tried Wild Cherry Pepsi in the US and according to good old wikipedia, we did have it in the UK back in the 80's.  Well only being born the 80's this is before my time so sadly I missed out.  This seems to happen a lot in the UK where they bring stuff out and then it disappears, who remembers Pepsi Raw?  I loved that stuff...whatever happened to it?
I do really like Cherry Coke but I try to stick to sugar free drinks as much as possible because I drink way too many fizzy drinks.  Diet Coke Cherry is quite frankly a poor substitute; to me it just tastes way too much of chemicals and not enough of cherry.  It's also not sweet enough tasting for me which is kind of weird because I actually much prefer Diet Coke to Coca-Cola but this is a Pepsi review so I will get to the point...
Pepsi Max Cherry is very sweet and yes it does actually taste of cherry!  I would say more like cherry flavoured sweets than actual fruit but I enjoyed it and it was quite refreshing.  It tasted very similar to how I remembered Wild Cherry Pepsi from when I was in the States.
Verdict
Pepsi Max Cherry now means that I can have decent cherry-flavoured drinks that actually taste like cherry but without all the sugar...I also think my husband liked this drink because Pepsi Max looks way more manly than something with "diet" written on it!  Good work Pepsi!