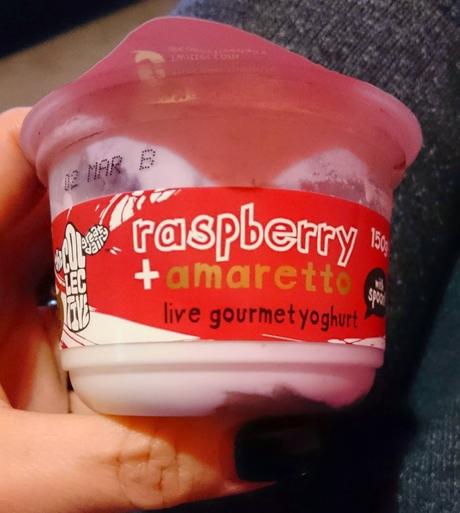 The Collective Dairy 150g pots are currently on offer at Ocado so I took the opportunity to try some flavours that I've not experienced before. They are usually priced at £1 per pot but you can currently get them for 4 for £3.  I was particually excited about this Raspberry & Amaretto flavor after my brother mentioned it to me a while back.
I like these little pots as they come with a spoon so they are handy for grabbing on the go or for taking for packed lunches. This flavor contains 195 calories per pot.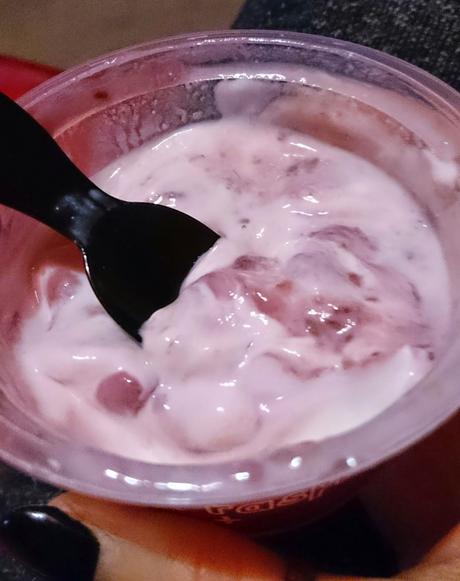 The Collective Dairy makes thick and creamy yogurt and this one comes with a swirl of Amaretto and raspberries which makes for a very pretty looking yogurt. It smelt deliciously sweet with just a hint of the almond liqueur. It wasn't as thick as the Russian Fudge flavor that I reviewed last year but I tend to find that fruity yogurts do tend to be a bit thinner presumably due to the water content.
The flavor was delicious, and the sweetness of the Amaretto really complimented the slight tartness of the raspberries.
Verdict
Another deliciously indulgent yogurt from The Collective Dairy, definitely one that I will be looking out for again!