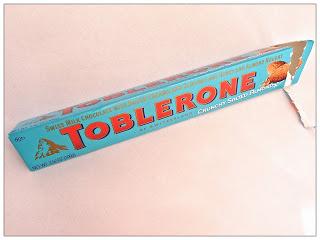 Toblerone is one of those things that I don't usually buy for myself but I am always delighted to receive one as a present, usually from someone who has been on holiday and picked one up in the duty free; why is Duty Free always full of these things?  Anyway Toblerone is always a safe gift for me, I love the stuff, especially the white chocolate one!
I did however purchase this Toblerone Crunchy Salted Almond for myself when I went to Orlando back in November.  I spotted it in Walgreens but I can't remember how much I paid for this 100g bar.  I have not seen this flavor in the UK before so I was intrigued, also being a girl I am attracted to pretty looking things and this box just happens to be my favorite colour!
Your standard Toblerone is of course milk chocolate with honey and almond nougat; Crunchy Salted Almond Toblerone is the same Swiss milk chocolate and nougat but also with salted almonds thrown into the mix.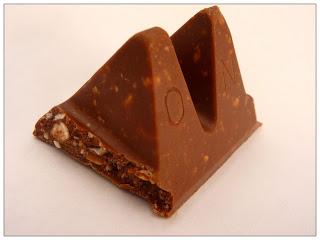 I adore the milk chocolate used in a Toblerone, it always so soft and creamy.  This bar was more crunchy than the other flavours due to the additional nuts but it still had the chewiness of the nougat which in my opinion is the best part of a Toblerone.  What was a little disappointing is that the saltiness from the almonds, whilst in no way over-powering, it did distract a little from the gorgeous honey aftertaste that I enjoy so much about a Toblerone.
Verdict To put this review in perspective, a Milk Chocolate Toblerone would get 4.5 stars and a White Chocolate Toblerone would get 5 stars.  I will only be awarding the Crunchy Salted Almond Toblerone  3.5 stars; it was good and I enjoyed the texture but I am not disappointed that I haven't seen this flavor in the UK.  I will be sticking to my old favourites.