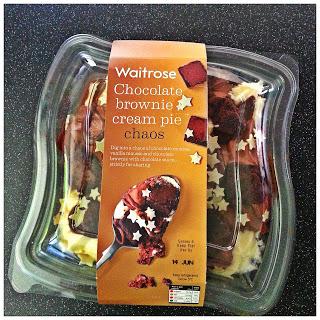 My brother was round last night and that always means that he brings dessert and this time he arrived with this Chocolate Brownie Cream Pie Chaos from Waitrose. First of all I just love the name, it sounds like a complete animal of a dessert. He paid £3.99 and the dessert serves 6 people with 204 calories in each serving. It contains beef gelatine so is not suitable for veggies.
A Chocolate Brownie Cream Pie Chaos obviously contain brownie but it also has chocolate mousse, vanilla mousse, chocolate sauce and white chocolate stars. I reviewed the Cadbury Chaos Pot recently which was similar but I have to say that this Waitrose version looks more attractive in the pot, I really like the white chocolate stars as they just finish it off nicely.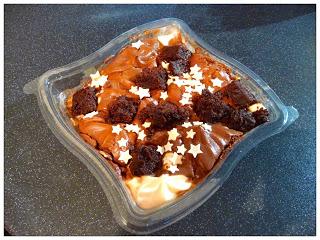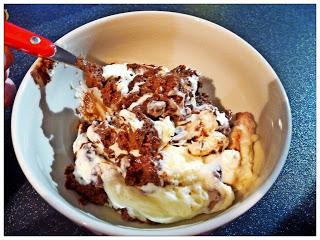 Now sadly these sorts desserts don't look quite as good when you transfer them into a bowl but that could just be because I haven't mastered the technique as I always seem to end up with a mess.
Both the chocolate and the vanilla mousses were excellent; they were quite thick in texture and very creamy. The chocolate mousse was really chocolatey and the vanilla mousse had a strong flavor to it too. The best bit however was the brownie; it was just so chocolatey and gooey and there was a good amount of it too.
Verdict I thought that the Cadbury Chaos Pot was good but this Waitrose version blows it out of the water, I liked it so much that I have just been and purchased another one to take round to my inlaw's BBQ tonight!