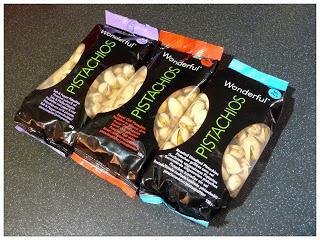 I was contacted by a PR agency recently and asked if I would like to try Wonderful Pistachios and Wonderful Almonds. Seeing as I love both nuts I was more than happy to try them, especially when I heard about the interesting sounding Sweet Chilli and Salt & Pepper Pistachios! Wonderful Pistachios are also available in Roasted & Salted and Roasted No Salt.
I find Pistachios highly addictive and I know it probably sounds a bit odd but I love taking off the shell, I have purchased unshelled pistachios before and it's just no fun!
All flavours contain around 570 calories per 100g and can be found in Waitrose, Ocado, Julian Graves, Holland & Barratt, Tesco and Sainsbury's.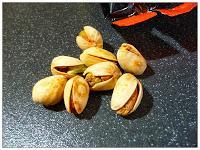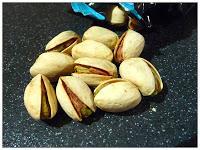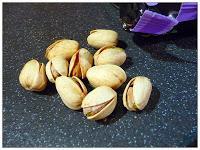 I went straight in and tried the Sweet Chilli flavor first (red bag) and thought that these pistachios were awesome! I love things with a bit of heat and it made an already extremely moreish snack even more addictive. They have a lovely sweet tang to them and clearly Mr Review Addict enjoyed them too as I left the bag in the cupboard and when I returned they were gone! 
The Salt & Pepper (purple bag) were my 2nd favourite, black pepper is also something that I enjoy a lot although not something that I have tried on nuts before, however it was a great combination.
The 3rd bag I was sent was Roasted No Salt. I do generally prefer salted nuts but these were still tasty and ideal if you are trying to be a bit healthier. As I learnt tonight at my Slimming World group, you can have 28 of these as a B Choice...result!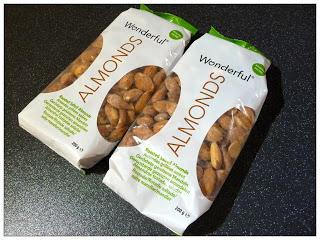 Wonderful Almonds come in 3 flavours: Roasted & Salted, Raw Natural and Blanched. I was sent a couple of bags of the Roasted & Salted flavor. These contain 593 calories per 100g.
Almonds are another favorite of mine so unsurprisingly these were also very addictive! They had a lovely crunch to them and I enjoyed the roasted flavor.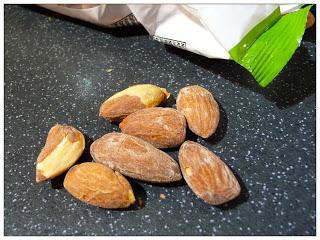 Verdict
I can't fault Wonderful Pistachios or Wonderful Almonds, I enjoyed all of the flavours that I tried. I would love to see the almonds available in the Sweet Chilli and Salt & Pepper flavours!