*Sponsored Post*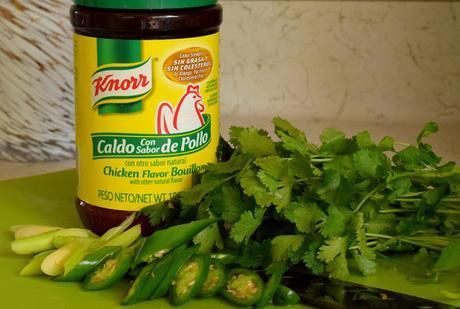 During lenten season, Catholics like myself, honor this holy time by abstaining from eating meat either for the entire forty days of the season, or on Fridays leading up-to Easter Sunday. 
As a Mexican-American, I tend to cook the vegetarian dishes that are typically made during this season; but sometimes I mix it up a bit by giving those dishes a new spin to make them more appealing to my non-Latino hubby, or add a fusion twist to non-Latino dishes that are perfect for meatless days.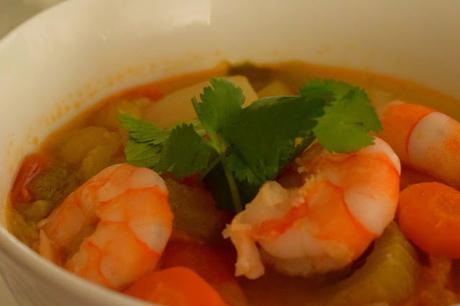 While shrimp soup is one of those dishes that my hubby and I order at Thai restaurants, it's too light of a dish to eat as a main course; and the shrimp soup I grew up with had a combination of seafood and a fishy broth that I'm not a fan of.
Inspired by what my hubby and I love from the Thai soup and taking away what we don't like from the Mexican seafood soup, I created a recipe that was substantial enough to eat as main course when paired with a light cactus salad.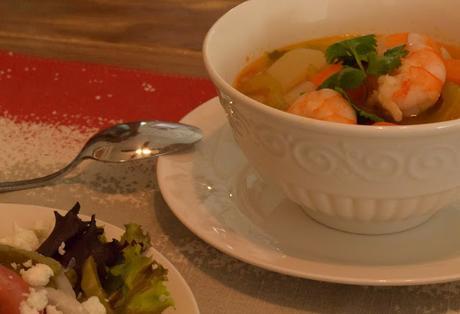 Ingredients to prepare the Spicy Shrimp Soup* include:
1 lb. Fresh medium-sized shrimp - cleaned and peeled4 Medium-sized tomatoes - chopped1/2 Medium-sized white onion - finely chopped 4 Peeled carrots - chopped4 Celery ribs - sliced1 Chayote - chopped 1 Green bell pepper - chopped3 Small gold potatoes - chopped 3 Garlic cloves - finely chopped1 Spear lemongrass - sliced diagonally2+ Serrano peppers - sliced diagonally1/2 Bundle cilantro1/4 Cup olive oil1/3-1/4 Cup Knorr Chicken Granulated Bouillon  (affiliate link)
*Serves 6-8 medium-sized bowls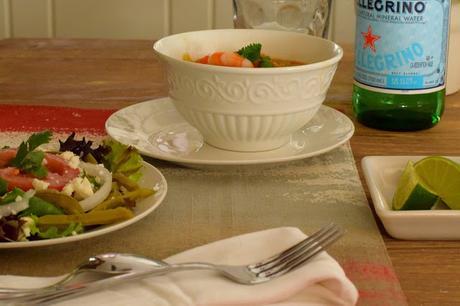 Preparation:
Add hot water to a 4-qt stock pot leaving two-three inches at the top. Bring to a boil.
Dissolve Knorr Chicken Granulated Bouillon  (affiliate link) once the water is boiling.
Add the lemongrass, serrano peppers, potatoes, and carrots. Reduce the heat.
Once the broth is simmering (15-20 minutes), add the bell pepper, chayote and cilantro. Turn off the heat and set aside.
Heat olive oil in a 8-qt stock pot over a medium flame.
Once the olive oil is hot, add the onion, garlic and tomatoes.
Cook until the tomato is falling apart (5-10 minutes), then add the celery, turning quickly for 1-2 minutes or until the celery begins to change its color.
Slowly add the broth and vegetables from the 4-qt stock pot into the 8-qt stock pot and keep cooking under medium heat.
Once the soup starts a rolling boil, add the shrimp, cover and turn off the heat.
Uncover the soup in 2-3 minutes, lightly mix and serve with a garnish of fresh cilantro.
Note: Keep a teapot or third pot of simmering water aside just in case you want a lighter soup or you over-seasoned your batch. Add this hot water only before you add the shrimp if you need to.
---
I hope you enjoy this easy and flavorful soup that is sure to delight everyone sitting at your dining table - whether during Lent or any other day of the year.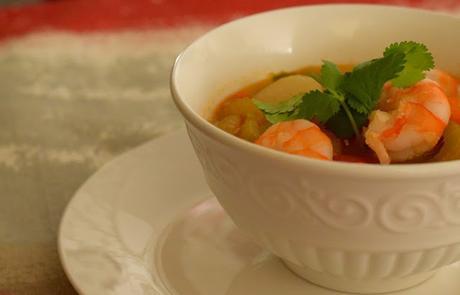 To get more Lenten season recipe ideas, or to get inspired with new and interesting Latino vegetables, I invite my friends in Southern California to visit my kind sponsor Northgate Gonzalez Market.
Ana Lydia