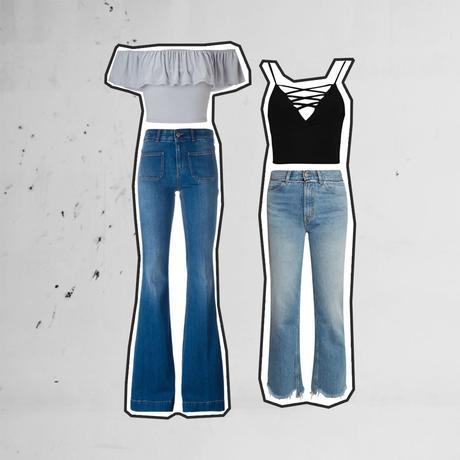 If you've read the previous outfit grid, I've talked about patchwork and how 

90's style is hitting back the fashion world. In relation to that, flared jeans is one of the 90's style tre

nd that has been back on the fashion scene.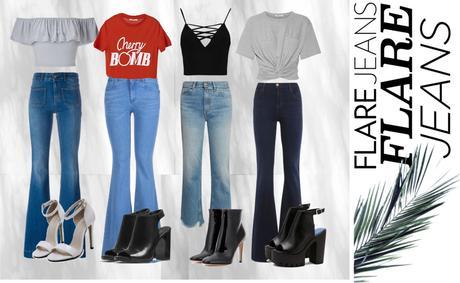 FLARE AWAY by katherineannika featuring black flats
Sorry gentlemen, but I would like to dedicate this post to the ladies alone because I don't really recommend you guys wearing this. Lol! So ladies, I know that you have a couple of pairs of flare jeans in your closet that is almost never worn. One of the reasons that we tend to discard them is because we just can't get enough notion on how to style them or maybe, it's too off-season. I know for sure we can all relate to the same kind of issue. Well, worry no more because flare jeans are back and they've never been this stylish before.
A pair of flared jeans is often high-waisted. This style back in the 90's isn't really that popular. We used to see flared jeans as super low hip-waisted back in the day. On today's trend, flared jeans are much more stylish in high-waist because you can pair them with your favorite cropped top or bralette. If you are not the type to show a lot of skin, then you can wear your favorite loose shirt tucked in your flared jeans with a belt. You can also keep it casual with just a tank top tucked in. If you wanna look more fashionably boho, try layering your outfit with a sheer kimono. 














I've seen these jeans popping up in stores so it is really easy for you to grab a pair (that is if those old flared jeans stored in your closet don't fit anymore haha). I have gotten myself a pair but it was a product of my impulsive self that I haven't really checked that it was a bit short. Haha! So be extra fussy when you buy your clothes, especially flared jeans! You might need also to choose those that are tight in the leg area to achieve a more slender look when you wear them.
Flared jeans are best worn with high heels because these jeans are typically meant to make you look tall and high-heeled shoes can help you carry that out. It is recommended to hem the jeans to the shoes you are planning to wear. If you wanna wear flats, you can wear capri flared jeans. Capri flared jeans that are denim and raw-edged (see photo above, third outfit) are the most trendy these days. Flared jeans that are too long though, should be paired with high heels because wearing them with flats might cause you to easily trip and might most likely tear up the edges as well.


x

Weekly Outfit Grid is a weekly series featuring an outfit idea of the week composed of different clothing pieces created at Polyvore.com. The idea of this series is based on the #outfitgrid trend on Instagram where outfit pieces are folded and laid on a flat surface and commonly arranged accordingly to form a square. Most #outgitgrid shots are taken on a flat lay view. Kindly do take note that this series is just a guide and/or reference and you don't necessarily need to mind the price or brand of the listed outfit elements below since I will be providing cheaper alternatives as much as possible.
x
x