I'm sure you've noticed that the 90's fashion is back. Elements such as bandanas, high-waisted jeans, and patched clothes are worn by the world's biggest fashion and style icons. It's one way to look back how fashion used to be and also serves as inspiration to flaunt them. I think one of the most popular of the arising 90's style trend is patchwork. Patchwork doesn't only give you a funky look but it also relives the youth in you. Patches are quirky add-ons to your wardrobe which expresses a fun vibe. Pop culture inspired patches are always a way to go and they never fail to exhibit your youthful personality.
Patches are often attached on denim jeans and jackets and now they are also on thick shirts and even caps. Did you know that you can also use patches to mend or cover your old clothes' holes or rips? Patchwork really saves that day. It doesn't only give additional charm, but also fixes your wardrobe. 
Most stores sell a range of clothing with already attached patches. You can find them in most Instagram stores and even in stores on downtown area. There are also stores that sell patches alone, like in Bershka and Pull&Bear. With patches alone, you can have the freedom to decorate them however and wherever you like to. You may opt putting the on your caps, on your plain denim jacket or even on denim skirts. Usually, patches are best attached on pockets or sleeves. Just make sure not to overdo them because too much patchwork tend to get bothersome or distracting to the eye. Keep them strategically placed, or scattered but still nice to look.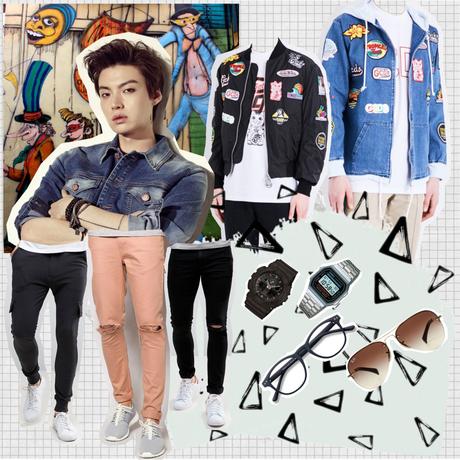 You can also get to pick the right kind of patched clothes based on the occasion or where you are going. Are you traveling? Then choose something like cute airplane or parachute patches. Going to a casual party or getaway with friends? You can put some pop culture patches like famous emojis and band names. This all depends in your creativity.  
For men, a nice bomber jacket is also one of the easy ways to get on with the patchwork trend. Wear your customized patched bomber with a pair of black ripped jeans. If you prefer a denim jacket, you can pair it with a pair of khaki pants for a clean look. For the ladies, if you still wanna look cute, have a patched weather and pair it with your favorite skirt. If you wanna look edgy, then try with a pair of ripped jeans as well. There are just endless possible combinations! The best way you can try is to style it according to the current season.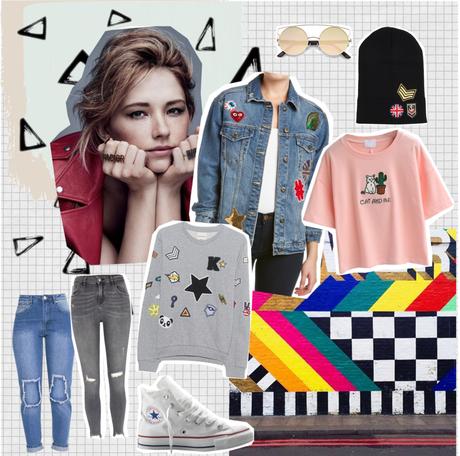 x

Weekly Outfit Grid is a weekly series featuring an outfit idea of the week composed of different clothing pieces created at Polyvore.com. The idea of this series is based on the #outfitgrid trend on Instagram where outfit pieces are folded and laid on a flat surface and commonly arranged accordingly to form a square. Most #outgitgrid shots are taken on a flat lay view. Kindly do take note that this series is just a guide and/or reference and you don't necessarily need to mind the price or brand of the listed outfit elements below since I will be providing cheaper alternatives as much as possible.


x