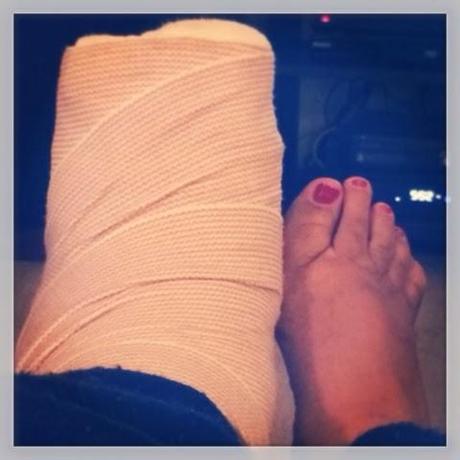 Three weeks ago I had a seemingly simple and routine "foot surgery" to repair torn ligaments on my ankle that were caused by an accident.
I wouldn't have taken such a severe remedy had I not been living with pain for the better part of three years.  

The weakness in my ankle was also causing swelling and pain that traveled to my knees.  Walking was not only difficult, it was painful.

The pain was also the culprit of many sleepless nights, anxiety attacks and shot nerves.  The jury is still out on whether all these symptoms were agravated by my unstable thyroid issues, or whether the pain and swelling agravated my thyroid.
In other words, I haven't been myself for the better part of the year.
It goes without saying that good health is the foundation of ones life; and my foundation was falling apart.  
I ignored all the signs, placing everything and everyone around me above me.  No one asked me to do it, nor am I playing the victim or martyr, I just acted on my impulses.
I blame it on my Latina Catholic school girl upbringing: "put others need before yours."
Be a giver. Be strong. 
In spite of ignoring the obvious issues with my ankle, I find comfort in the gifts that have been sprinkled throughout this ordeal, and some of the biggest lessons of 2013: 
It's OK to be Vulnerable.I pride myself in having two outwardly faces: poker or Chesire-cat like. Crying is for sissies - until I found myself at the bottom of my two story walk-up unable to move, in severe pain and sobbing uncontrollably at the thought of having to scoot my butt up the flight of steep stairs.  I've since lost count at the number of times I've cried in pain, desperation and frustration in the last three weeks...and I'm perfectly ok with that.
Let Other's Give.I'm the queen of my castle and master of my world. I can do it all and all quite well in my universe - until I couldn't...and that's when shit hit the fan. I have not only lost the ability to do it all, but I have to accept how others do things. Do I like it? Not always - but I've learned to appreciate the simple action of others giving and trying to help.
It's OK to be Plain.

I have vanity by the cartloads, to the point of actually selecting my hair style, makeup and pre- and post-surgery outfit. The plan was to look

cute

even if in a cast

. Funny thing is, God laughs when we make plans. Cuteness was thrown out the door when my larger than planned cast didn't fit over my leggings, let alone most of my skinny jeans. Since I can't move to go through my closet, I'm limited in wearing what my mom or hubby picks out. Let me tell you: nothing has matched or looked flattering on me since I left the hospital. I have since stopped obsessing over that and found that a little makeup or at home manicure helps lift my spirits while I live in sweats. T's and a messy ponytail.

Go Back to Basics.My hubby and I live a good and happy life. We're foodies and constantly on the go. It's our thing - until I couldn't move. My surgery aftercare has been challenging for me, but also him. He's gone from being married to an independent woman to having a wife at home that can't get herself a glass of water. The first two weeks, although the worse in my pain scale, were better managed because my mom was here and took care of me while he was working. But this week? It was just him and me. He had to figure out how to cook, clean, work and take care of me while managing his moods.  We had to entertain ourselves indoors, without company and our usual activities.  The result: We talked more, and spent more time together - alone. We've laughed more than usual at dumb things. Like the way Princess Maya rolls on her back to get our attention. We have also fallen in love with Anthony Bourdain. I feel like this entire situation was actually good for our marriage.~~~~


Even though I've learned so much in the last three weeks, I'm ready to go back to my life.

On Monday I go back to see the surgeon and find out if my non-weight baring fiberglass cast will be changed for a walking cast. I have never been so ready to walk and go back to my life.

Wish me luck!