For most girls and style enthusiasts, I know it's a pain in the a** to plan on what to wear on our trips, during occasions, or even during simple gatherings with friends. Now that the Sinulog festival is super fast approaching (literally in 2 days), outfit preparation might be hectic this time. We do know this cut and style trend has been popular for years but I know some of us want to wear something else instead. That's why I prepared some outfit ideas that I think we could wear (for both girls and guys) as we feast the streets of Cebu this Sinulog 2017. Do you know where you are headed to? If you don't, then I got you covered.
Join the wildest and most colorful party this Sinulog, Hyper Wonderland 2017!




WHENJanuary 15 – January 16Jan 15 at 3 PM to Jan 16 at 5 AM
WHEREAxis Entertainment Avenue at Vibo PlaceVibo PlaceN. Escario Street6000 Cebu CityPhilippines
WHAT IS HYPER WONDERLAND?The concept of the Hyper Wonderland do not veer too far away from the concept of the usual Sinulog party atmosphere: jungle-themed, neon lights, black lights, wet and wild. But more than just the party atmosphere, Hyper Wonderland aims to cater to a wider audience of not just the party goers but also the family-oriented, the bazaar bargain hunters, the foodies, and just about anyone. Having this in mind, Hyper Wonderland organizers made the event a rave party, a music festival, a food festival, a lifestyle and fashion bazaar, a bloggers' meet, and a charity event all in one. The beneficiary for the proceeds of ticket sales and other revenue streams of Hyper Wonderland will be Dancesport Team Cebu City's grassroots program. Click here for more information.
Hyper Wonderland by Hyper Cebu is currently in partnership with Globe Telecom and they're all set to #DoItDifferent this weekend for the Sinulog 2017!
Now let's talk about how you are going to rock Hyper Wonderland by wearing these outfits. Let's start for the gals.
Simply Easy-Going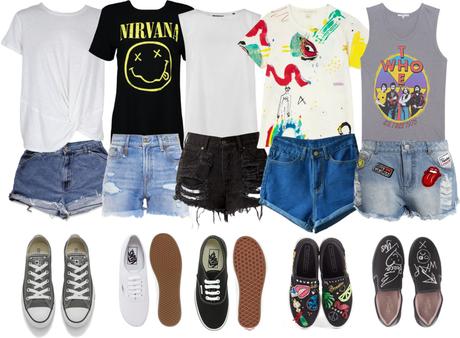 This is just your typical Sinulog get-up where you get to wear your most comfy shirt or tank top, a pair of denim shorts, and sneakers. You're then good to go and rock the streets.
But if you prefer, you can have Hyper Cebu's official Sinulog shirt instead!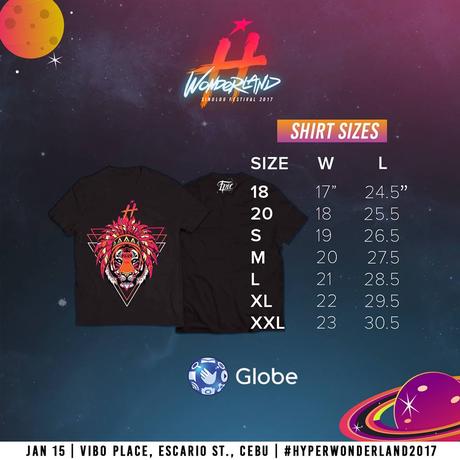 Dominate the streets in HYPER CEBU's official Sinulog shirt! Wear it with the tribe and roar like Tigers! Available in Black and White in our EXPLORER KIT for only P650 with a Hyper Wonderland 2017 GA Ticket!-------------------------------EXPLORER KIT (Php650)Hyper Sinulog ShirtFestival GuideWater Proof PouchWhistle Sling with FeatherResealable BagPoster PaintSticker-----------------------------GET YOUR KITS FROM: #HyperADAM 0927 993 6590ORDER YOUR EXPLORER KIT HERE:goo.gl/Bsu9a0
Cropped tops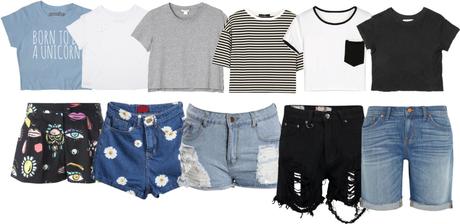 You can never go wrong with cropped tops except if you wear the wrong/inappropriate bottoms. So better go with high-waisted (preferably non-baggy) shorts because they're basically made for cropped tops. You wou want to get your tummy be exposed the whole day
Trendy Halter Tops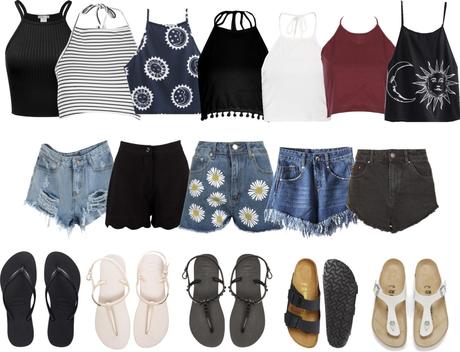 Halter tops have been on trend the past year and there's no reason for you to not wear them! Complete the look by sporting a baggy denim (or non-denim) shorts to complement its tight style.



And you can never forget tie-front tops. Aside from looking cute when wearing them, I think this outfit really suit the festival! If you don't have any tie-front tops, you can definitely make your own by customizing your old shirts.
Now let's not forgot that boys should get the style too. Most guys' outfit are easy to style especially during events like Sinulog. A simple pair of shirt and pants would already make them look great.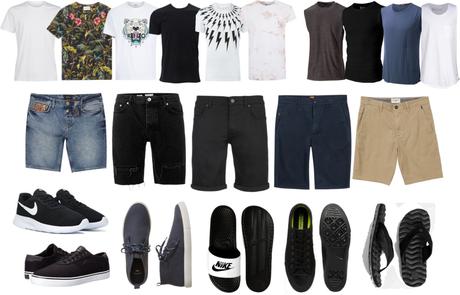 You would want to wear something comfortable that you can party all night long so a simple shirt with or without sleeveless would be the perfect option. You don't want to wear a polo or jacket if you want to party hard, do you? Haha!
To ground your look, don't forget to put some accessories, but put in mind to minimize them.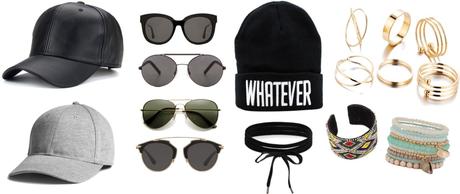 Some people would wear something that they are not worried about getting painted or dirt on so they prefer used or old shirts and/or pants. But I think some people would still wear something nice or new but still don't worry of the chaos it will undergo during the festival because they might keep it and eventually collect the shirts/get-up they wore over the years of celebrating Sinulog. I think that's one fascinating idea. You got to keep and have something to remember.
Now I guess we're all set and ready to hyper party!
RESERVE YOUR PASSES HERE:goo.gl/Bsu9a0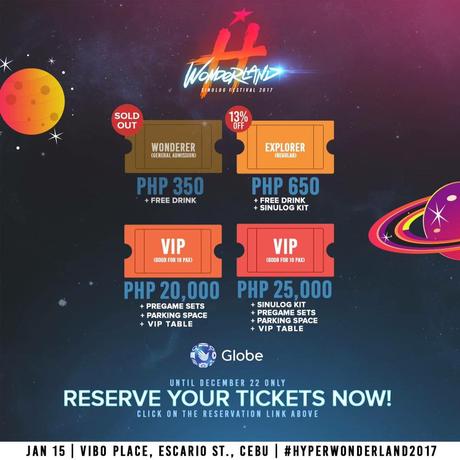 In less 2 days, we will gather once a

gain in the event we all looked forward to. Same face in the same place, yet a bigger, wilder and even more vibrant this coming year. Be where everyone else will be. Stay hyper!
Finally! The Hyper Wonderland 2017 Video Teaser is here! A few more days before we blast-off into the Wildest and Most Vibrant Sinulog Festival this 2017! Together, let's create memories as Globe Telecom and HYPER CEBU enters the void of 80's Retro, bringing the groove into the Queen City of the South on January 15, 2017 at Vibo Place, N. Escario street, Cebu City, Philippines.
This video is made with Love by
Director: N.T.
Videography: Seph Tan with Shikki and Czarina Gicale
Music by: Vince Lucero - Music
HMUA by: Joel Sarimos and Steph Zapanta
Styling by: Shayne Lopez of CTP
Models: Lou Matt Adam Aaron Leo Era Moses Patrick Maegan Katherine
Set by: Lights and Sounds by Sarua Records Corp
Special thanks to: Mytheiuss Models, ALPHA 3 Marketing Team
#HyperWonderland2017
#GlobeSInulog
#HYPERWONDERLAND2017

#WonderfulPH #EnjoyGlobe #GlobeSinulog #iBLOGSinulog


x