I will never forget my first conference: It was held at a generic hotel in the San Fernando Valley.  Focused on representing the company I worked with to the best of my abilities, I took several pens, a (paper) writing tablet, and business cards; and of course, wore a (black) suit.  Looking back, I was so obsessed with making my company look good, that I failed the basic: "How do I feel?" test.
I have since gone to several, probably nearing 100, conferences.  Ranging from business operations, to PR writing courses, from executive management, to the recent surge in social media & blogging conferences, each conference has it's own
vibe.
Until recently, I played it safe regardless of where I was going or what the conference was all about.  Not only did I wear my basic black slacks, a tailored jacket, comfortable shoes and your basic collared shirt, my entire outfit was planned to be able to blend it, not stand out.  Being professional and comfortable was my priority.
But things have changed since my first conference in 1995.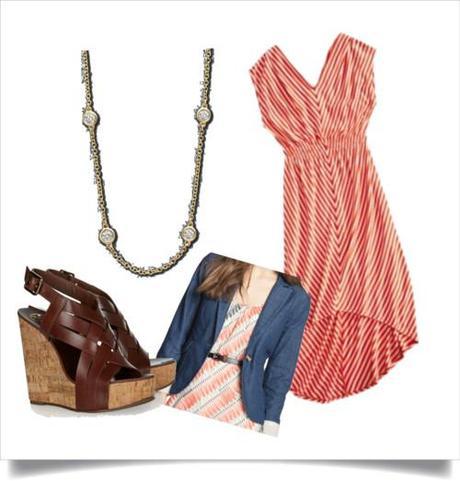 I've recently noticed  that most conferences allow attendees to show their personality with their wardrobe choices.  Suits are no longer required, and color - including red - is no longer an oddity.
The upside of this (welcome) change, is that most conference attendees are not only more comfortable, but their personality is actually showing instead of being hidden behind a tailored -and dated- suit.
The best part of it?  Conference attendees no longer blend in - they stand out - and when styled right, they will not loose their professional edge.
Conference Outfit by
latinaprpro
featuring a diamond necklace

Hi low dress
$20 - target.com

Sanctuary denim jacket
$75 - nordstrom.com

Tory Burch strappy sandals
$148 - net-a-porter.com

Effy Collection diamond necklace
$1,070 - macys.com